ABOUT US
Every item in our store has been hand-selected and purchased with the intent to resell.

We acquire (aka buy-back) items from local families whose children have outgrown their current size(s) or who have simply run out of room to store their toys and gear!

We are not your typical consignor. First, without a store-front, we just don't have the space. So, we don't take all of your items. We have to be a little picky. Don't get us wrong, we are not a boutique. We don't carry only high-end items. But, we won't take things with stains or holes. Items are inspected. Each item is hand-selected.

We offer 30% cash (of our list prices; pre-shipping) immediately for the items that we want. If you'd like store credit instead, we offer an additional 10% (so, 40% total).
This means you do not have to wait for us to sell your item to get paid (or get new items for your littles)!

We sell to anyone (local or otherwise) who is looking for children's clothing/gear. You can shop with us at any time and we will ship to you.

And...we know how to stuff a box!

Since we are inspecting each item prior to purchase, we can act in many ways like a personal shopper for our customers. If there is something particular you are looking for, let us know. We can be on the look-out for it and let you know if we find it in the right size, color, etc.
To let us know what you're looking for, leave us a message on our Contact
Us page.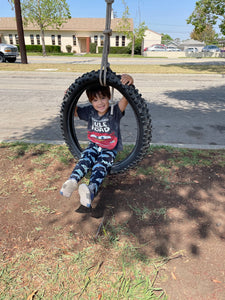 WHO WE ARE
We have two young ones and quickly discovered how expensive kids clothing is AND how fast they outgrow it!
With friends and neighbors who have young children, we also realized we weren't alone in feeling this way.

We still hear how folks are always looking for new places to find affordable kids clothing.
So, we decided to try to serve this market!

I started this business while still working full time about 5 years ago.

Back then it was really just a hobby. Since becoming a stay-at-home mom with our second child, I have worked hard to bring Young Ones Kids Resale Store to where it is today.
Mom duties are always first but I am happy to say we have been growing more and more each year thanks to awesome customers -- like you!

Young Ones is an internet-based business that offers a local pick-up option (by appointment only -- contact us to set one!).
We have shipped all over the United States to customers who have found us by word of mouth,
friends/family referrals, and social media.
With this big launch of our own website, you can now see our inventory neatly categorized and shop from the convenience of wherever you are!
OUR GOAL IS HAPPINESS
- We want you to love your purchase!
- We want you to sell back to us!
- And, we want you to tell your friends and family about us!

Give us a chance to prove it to you!






Location
We are located in Long Beach, CA.
We ship all over the U.S.
We allow locals to pick up their items in person from us to avoid shipping fees
X streets for pick up are Palo Verde & Willow
Address provided during checkout